About ARCHI-DEPOT Museum
ARCHI-DEPOT is a museum with a new concept of archiving and simultaneously displaying architectural models. We are the only museum in Japan specially dedicated to preserving and exhibiting architectural models.
Architectural models are considered to be profound materials that transmit designers' thoughts, as well as being high quality design works. Contemporary Japanese architecture continues to gain international attention due to the high standard of quality in terms of design and technique. The models displayed on the shelves of ARCHI-DEPOT form a platform for Japanese architectural culture. Our museum offers the opportunity to observe, learn, and experience this culture firsthand.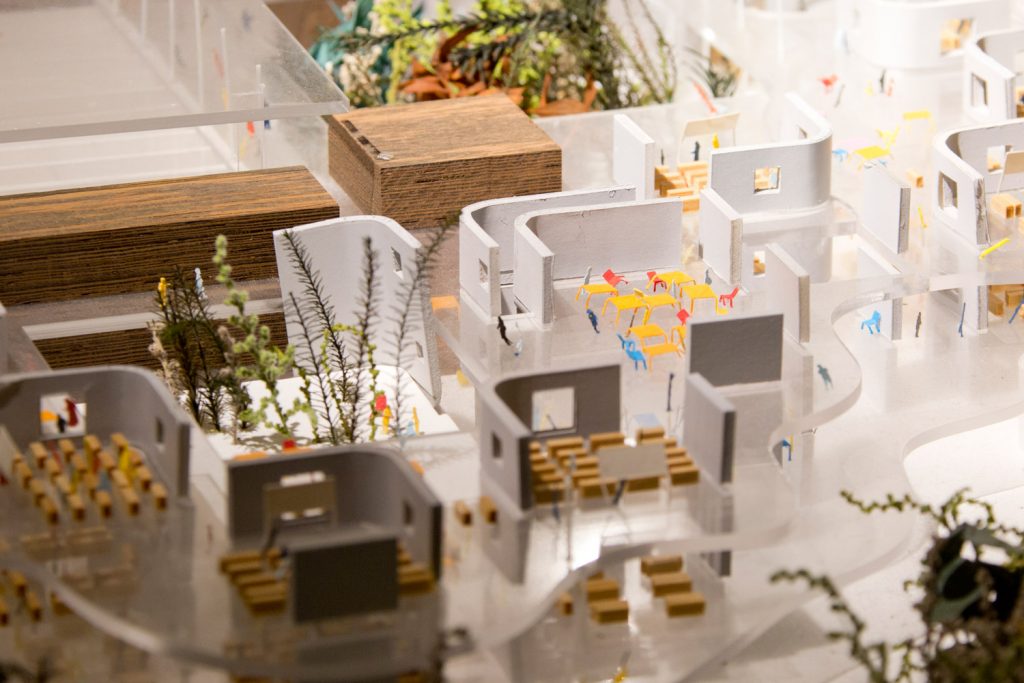 Introducing the Exhibition
About the ARCHI-DEPOT Exhibition
ARCHI-DEPOT features works of globally renowned architects and architectural companies, from study models to models of completed designs. As each architect/architectural company's works are displayed on shelves collectively, visitors are able to view the various works of art from a specific architect/company at a single glance. Models exhibited are subject to change, and thus new arrivals may await your next visit to the museum.
A Unique Viewing Experience by Combining "Museum" and "Preservation"
ARCHI-DEPOT boasts a 5.2m high ceiling and approximately 450m² of storage space with over a hundred storage shelves. The concept of unifying an archiving space and museum exhibition allows for a seamless viewing experience as guests explore the facility. The storage shelves hold the works of domestically and world renowned architects, from study models to models of completed designs.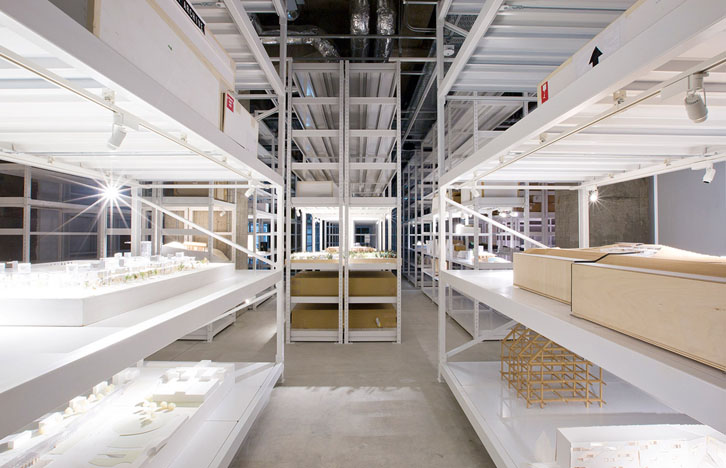 Digitally Access Information on Displayed Works and Architects' Profiles
Information on the architects and their models may be accessed on a website specially designed for visiting guests. Guests can look up more information, including photos and blueprints of each model, by scanning the QR codes placed alongside them on the shelves.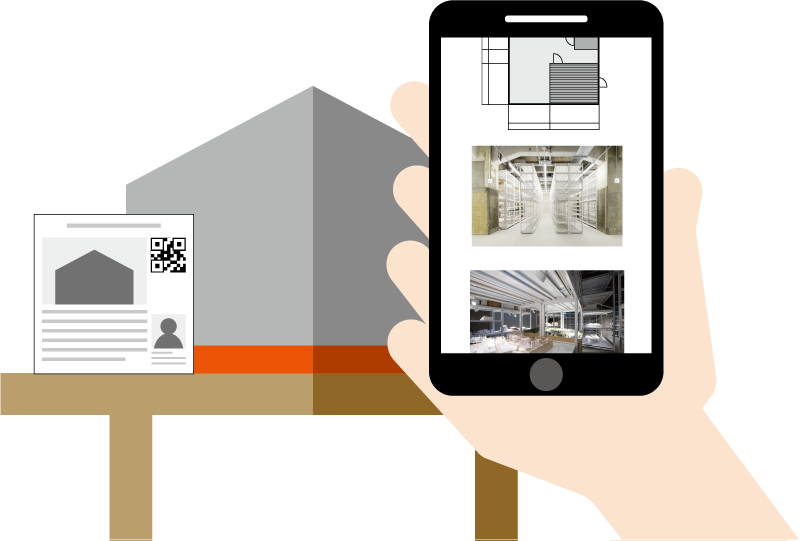 Creating an Environment for "Preservation" and "Exhibition"
ARCHI-DEPOT upholds the following conditions to combine "Preservation" and "Exhibition".
Lighting to Accentuate Models
One key feature of ARCHI-DEPOT that distinguishes itself from other storage facilities is the lighting within the museum. Each shelf is set up with lighting that accentuates the architectural model from all four directions. The aisles in between shelves are purposely dimly lighted, to create the illusion of the architectural models arising from the vast museum space.
All lights utilized for this purpose are LED, preventing fading from light rays, and disfigurement from heat.
Researching Optimal Preservation Conditions
The museum controls the temperature and humidity at an optimal level for preserving architectural models all year round. We will also conduct research into the best conditions for preservation, with the cooperation of specialist institutions. We also have on hand nitrogen gas fire extinguishers, so as not to damage the exhibits should a fire break out.
Concept of ARCHI-DEPOT Museum
The Only Museum in Japan Specialized in Architectural Models
Architectural models are considered to be profound materials that transmit designers' thoughts, as well as being high quality design works. ARCHI-DEPOT is the only museum in Japan that specializes in exhibiting architectural models.
New Attempt to Combine "Museum" and "Preservation"
ARCHI-DEPOT is a unique museum that is not only designed to exhibit architectural models to the public, but also has a function to preserve them.
Cultivating the Potential of Architectural Models
The significance of archiving is growing in the architectural industry as well as the art circles all over the world. Materials of modern architecture are already gaining attention, and it is no exaggeration to say that the cultural value of architectural models created by contemporary architects and architectural offices will also rise. ARCHI-DEPOT will help you examine the value of architectural models up close.
Dissemination of Japanese Architectural Culture to the World
Fans of architecture gather from all over the world, as ARCHI-DEPOT has an accumulation of Japanese architectural models. We are undergoing plans to develop various cultural programs to promote Japanese architectural by implementing projects inside the museum, as well as by cooperating with overseas cultural organizations.
Establishing a New Area for Art and Culture in Tokyo
ARCHI-DEPOT is located in a new cultural spot in Tokyo, Tennozu Isle, where various exhibitions and events such as "Tennozu Art Week" and "TodaysArt.JP" have been held. Tennozu Isle is expected to become more internationalized, as it has great access to Tokyo International Airport (Haneda Airport).
Opening the Future of Architecture
To facilitate the public exposure of Japanese architectural culture, we will hold exhibitions and events on a regular basis, and create opportunities to contemplate. We will devote ourselves to improve the education of students who major in architecture, and also to the children bearing the future of architecture.
About ARCHI-DEPOT Corporation
The Corporation's primary objective is to preserve and contribute to the development of Japan's architectonic culture, and propagate its values to the international community. In order to nurture the future generation of Japanese architects, preserve architectonic materials focusing on models, and raise cultural awareness, our activities are focused on supporting the ARCHI-DEPOT museum. ARCHI-DEPOT CORPORATION
The ARCHI-DEPOT Logo
The ARCHI-DEPOT logo is designed by Kenya Hara, of Nippon Design Center Inc. HARA DESIGN INSTITUTE.