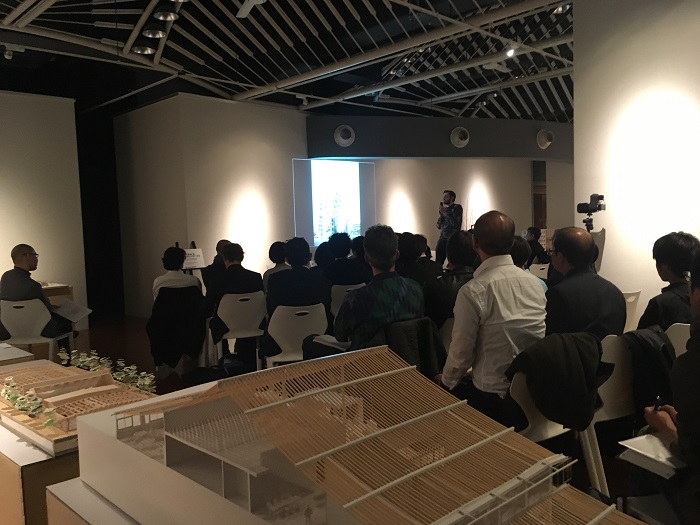 EVENT/ARTICLE|TALK
"Round Table on Wood and Architecture among French and Japanese Architects"
2016.12.7
On the occasion of the visit of the French Mission "Construction en bois" at the beginning of December, 2016, a round table bridging the Japanese and French architects, who have been actively engaged in wooden construction, is to be planned in Archi-depot Museum. This round table aims, both in academic and professional senses, at the exchange of creative ideas and technical know-hows between the French and Japanese experts as well as the promotion of new orientation of innovative wooden architecture both in Japan and in Europe.
"Round Table on Wood and Architecture among French and Japanese Architects"
■Date: Wed. Dec 7, 2016 from 14:30 to 18:30 (Open at 13:30)
Session 1 New Trendency in France
Session 2 New Horizon of Innovative Wood Construction in Japan
Session 3 Business Model for Wood Construction
Session 4 Free Access Discussion
■Venue: Event Space 『Terattoria』
(2-6-10, Higashi-Shinagawa, Shinagawa-ku, Tokyo 140-0002, Japan)
■Participation Fee: Free
■Seat Capacity: 60 seats
■Contact Information: event@archi-depot.or.jp  or  03-4405-6274
■Moderator:
Keita Aoshima (lecturer at Shibaura Institute of Technology)・Nicolas Ziesel (KOZ Architecture)・Tatsuo Iwaoka (professor at Tokyo University of Science)
■Speaker:
Aya Utsumi・Cohta Asano・Hiroko Kusunoki・Kazuyuki Takeda・Keita Aoshima・Mao harada・Miho Tominaga・Motoki Yasuhara・Nameda Takashi・Nicolas Laisné・Nicolas Ziesel or Christophe Houhayoun・Paul Jarquin・ Satoru Ito・Satoru Yamashiro・Sei Haganuma・Suzuko Yamada・ Takahito Ito・Tappei Ito・Tetsuo Yamaji・Yosuke Komiyama・Yuji Tanabe・Yusuke Fujita
■Commentator: Manuel Tardits (Mikangumi, professor at Meiji University)
※Since the number of seats is limited, please contact us at event@archi-depot.or.jp by Tue Dec 6, 2016.
Organizer: Archi-depot Corporation
Co-organizer:
Architectural Institute of Japan (AIJ)・Société franco-jaonaise des techniques industrielles (SFJTI)
Sponsored by: Ambassade de la France