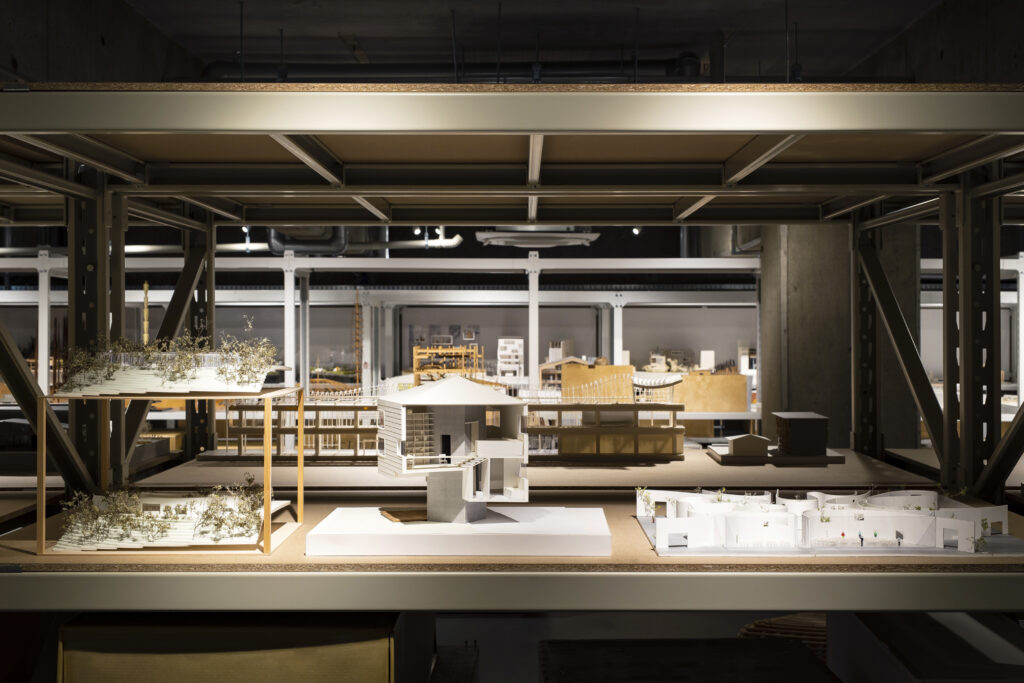 EXHIBITION
ARCHITECTURAL MODEL STORAGE VISIT
2022.3.3-2022.4.3
Architecture Model Storage Visit
The Architectural Model Storage is a facility adjacent to WHAT where we store and exhibit architectural models.
This was an optional tour only available to visitors with tickets to WHAT, but for a limited time, we will be offering an Architectural Model Storage-only ticket.
Visitors will be able to view architectural models from renowned architects and design firms that we store and display in a warehouse setting.
【Start Date】
March 3rd, 2022~
【Closed】
Mondays (If a national holiday falls on a Monday the museum will be open, and Tuesday will be closed instead.)
*Dates and hours are subject to change due to unforeseen circumstances.
【Admission】
Adults:800 yen
University Students and Under: 500 yen
Discount for Persons with a Disability Card:400 yen
*Children under elementary/primary school age are free (reservations are required)
【Timed-entry Schedule 】
(Includes travel time to exhibition space. Ticket valid for one timed-entry slot.)
Each time slot:  90 min
Check-in: Begins 15 min before the start of each timed-entry slot
Start         End       Check-in
11:00   –   12:30      10:45
12:30   –   14:00      12:15
14:00   –   15:30      14:45
15:30   –   17:00      15:15
【Capacity】
13 visitors
*To prevent the spread of COVID-19, the number of visitors per timed-entry slot will be kept to a minimum until further notice. Thank you for your understanding.
【Please note】
About the Architectural Model Storage Visit ticket
- The Architectural Model Storage can only be accessed with an authorized museum staff.
- Visitors may enter upon late arrival, but their visit time will not be extended. Please arrive and check in at the front desk before the starting time.
- Visitors may leave at any time during their visit, but re-entry is not allowed.
- There are no restrooms inside the Architectural Model Storage exhibition space. Please use the restrooms on the premises (inquire the museum staff for location) before the starting time.
- Please note there are some aisles that may be difficult to access in a wheelchair.
About tickets
- Children under elementary/primary school age are free (reservations are required)- Students must present their student ID card or other proof of age when entering.- If you have a Disabled Person's Booklet or an equivalent form of government-issued ID, please present it when entering.- Refund is only possible if you are in a poor physical condition. Please note that we cannot give refunds for other reasons. 
【Museum Rules】
- Do not touch the architectural models, the display cases, or shelves.
- Do not bring any food/beverages into the exhibition space. (Including candy and gum)
- Photography and videography are prohibited.
- The use of objects that produce light or sounds is prohibited.
- Do not bring backpacks and/or other large luggage inside of the exhibition space. Visitors are encouraged to use lockers to store their belongings. (Please keep your valuables with you.)
- The museum staff have the right to ask visitors to leave the premises if they are being disruptive to others.