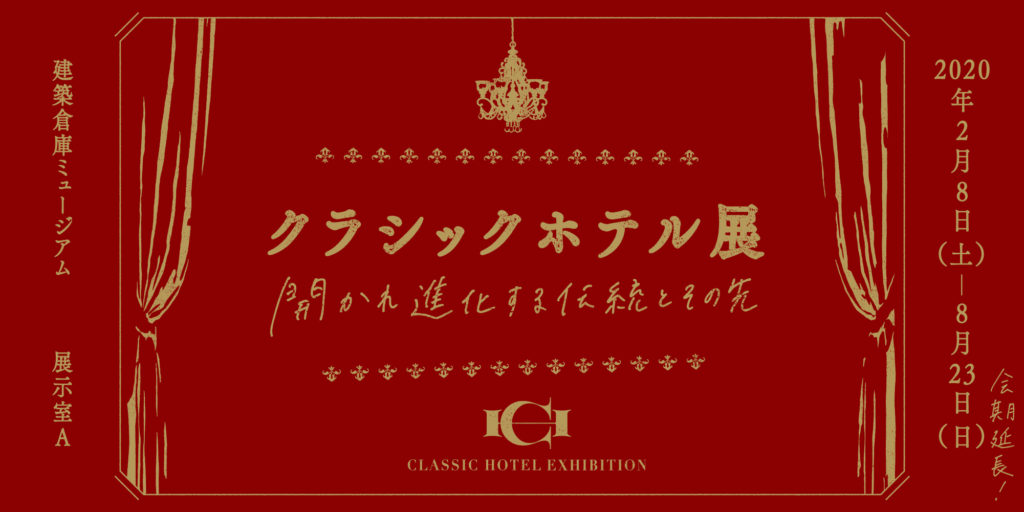 EXHIBITION
The Classic Hotels – Evolving tradition and beyond –
2020.2.8-2020.8.23
Dates
February 8th, 2020 (Sat) – Aug 23st, 2020 (Sun)
Venue
ARCHI-DEPOT MUSEUM – Room A
(2-6-10 Higashi-Shinagawa, Shinagawa-ku, Tokyo 140-0002)
Open Hours
Tuesday – Sunday, 11:00 AM – 7:00 PM (Admission until 6:00 PM), Closed on Monday
(open when Monday is a holiday, but closed the following Tuesday)
Admission
Admission: Adults 3,100 yen / Students 2,000 yen / 18 and under 1,000 yen
* Ticket: Online ticket system
* Free admission for visitors with a physical disability certificate and one of their carers
* Presentation of your school identification card indicating your age or a physical disability certificate will be required on admission.
* Admission of the tour of Architectural Model Warehouse is included.
Organizer
ARCHI-DEPOT MUSEUM
Exhibition Concept
In recent years, there has been a boom in hotel construction expecting many tourists from abroad to Japan in 2020. In contrast, there are hotels which emerged more than a 100 years ago with the development of modern industry in the Meiji Era. They are still in use with over a 100 years of tradition and are called Classic Hotels. They held significance as a place of gathering for diplomacy in Japan after a long period of isolation and have been adapting to changes throughout time by repurposing architectural functionality and varying cultural roles. They have also strongly influenced the traditional Japanese hotel styles and hot spring resort hotels which have an established history.
This exhibition will feature 12 classic hotels which are a representation of the origin of Japanese hotels. It will trace their long rich history and focus on the "stories" underlying each architecture. Classic hotels have continued to exist up until today thanks to strong will and mindset of the founders and people involved with these hotels. In order to pass on the legacy of these classic hotels which are based on many years of expertise, architectural blueprints, photographs, videos, documentation, graphics will be offered to visitors to experience them from different facets.
Highlights
1. The 12 classic hotels representing Japan will participate in the exhibition that feature their history over a 100 years and to the future
Focusing on 12 classic hotels which have histories from 1870 (the era of opening up to the world after a long period of isolation) and still have been continuing to evolve up until today, the history of classic hotels in Japan and their future will be presented with valuable documentations such as architectural blueprints and photographs.
2. An emphasis on the close connection between the founders and hotel architectures
Classic hotels strongly reflect the spirit of the founder all throughout the architecture. The exhibited audio, videos, photographs and actual furniture will demonstrate how the architects projected the founders' thoughts into the architectural space, and the bond between them.
3. Video interviews with Takashi Imazato and other architects presented specifically for this exhibition
Including Takashi Imazato who was engaged in hotel design under an architect, Isoya Yoshida, video interviews with architects responsible at the time of completion will be released for this exhibition.
4. A chair in a bar based on the idea of Bernard Leach, and other various furniture composing the atmosphere beyond time
Bernard Leach, a ceramist has a strong connection with Japan such as Japanese folklore movement. One of the chairs installed in the bar which was built based on his ideas will be on display especially for this exhibition.
5. New photographs to highlight the appeal of classic hotels
New photographs will be prepared especially for this exhibition. They will bring a breath of the classic hotels which are exceedingly active over a 100 years, and exhibit new discovery of the classic hotels.
6. Experience hotel fragrance
From March 20th (Fri), 2020 to 22nd (Sun), the actual fragrance introduced into Rihga Royal Hotel by an artist Kan Izumi will scent the exhibition room.