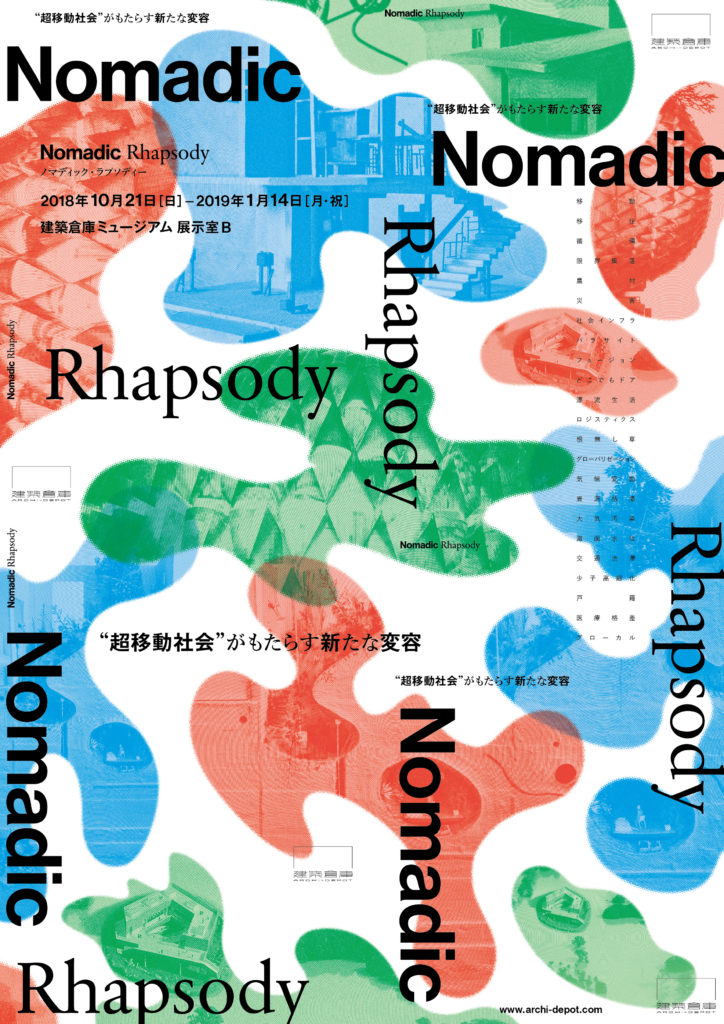 EXHIBITION
Nomadic Rhapsody—Changes Brought About by "Super-Movement Societies"
2018.10.21-2019.1.14
ARCHI-DEPOT Museum presents a third special exhibition, Nomadic Rhapsody—Changes Brought About by "Super-Movement Societies," showcasing selected works from the storage service, ARCHI-DEPOT ONLINE — featuring architectural models on overseas projects by multiple architects.
The movements of people have always played a pivotal role in creating and fostering cultures: the fusion of Chinoiserie and Rococo as a result of European countries traveling to Southeast Asia past the Age of Discovery; post-impressionism and other expressionisms birthed from the ideas artists got from their visits to colonies; surrealists leaving their home to cross the ocean as self-exile; blues and jazz spreading all across the United States. In this way, the migration of people has also influenced the architectural culture over the years — through the exchanging of influences among various regions.
In this age of déraciné, computers have taken a central role in our lives, making the communities around the world feel closer to each other. On the other hand, however, we see regional inequalities and disparities; a widespread decline of diversity in language; global warming, weather disturbances or earthquakes affecting the lives of many; and a divide among the same ethnic groups as a result of anthropogenic hazards. Perhaps we can find similarities between the various phenomena occurring in Japan and that of the foreign countries, especially within the region we call Asia—or would the similarities be irrelevant in the end? Please enjoy this opportunity to think of the above-mentioned commonalities and relationships through our architectural models.
Nomadic Rhapsody—Changes Brought About by "Super-Movement Societies"
Date
October 21(Sun.),2018 —January 14(Mon.),2019
Venue
ARCHI-DEPOT Museum gallery B
Hours
11:00 a.m. – 7:00 p.m. (admission until 6:00 p.m.)
Closed on Mondays (Open on a Monday when it is a National Holiday, in which case closed the following Tuesday.)
Admission
Adults ¥3,000 / Students ¥2,000 / Under 18 ¥1,000
Organisation
ARCHI-DEPOT Museum
Text & Cooperation
Koji Ichikawa(Assistant professor of Meiji University)
Support
Riichi Miyake
Archidtects
Keiichiro Sako|SAKO Architects
Shigeki Maeda|GEO-GRAPHIC DESIGN LAB.
Takashi Fujino|IKIMONO ARCHITECTS
Shinya Kojima・Ayaka Kojima|kooo architects
Kei Kaiho|KEI KAIHOH ARCHITECTS
Yusuke Oono|DOMINO ARCHITECTS & Gottingham
Kengo Sato|In-Field Studio
and others.