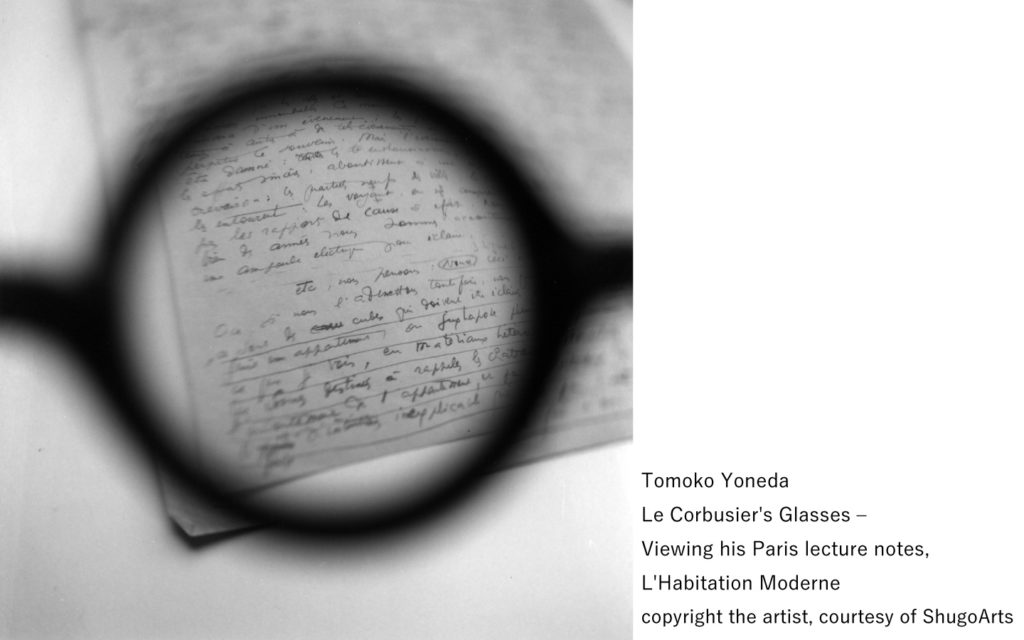 EXHIBITION
A gaze into architecture
-Phases of Contemporary Photography and Architecture-
2018.8.4-2018.10.8
The first photograph in the history of photography taken by Joseph Nicéphore Niépce shows an image of a barn and a pigeon house seen through a window in his workshop. This fact exemplifies that photography has been deeply connected to architecture since its invention in the 19th century. Especially in the 20th century—when modernist architecture was on the rise—many architects attempted to make their own architecture known to the public and deemed photography as foremost means to do so. What was emphasized here was the transparency of photography as a recording medium and this way of thinking prevails—mainly in the field of architectural journalism—by continuing to be mass-produced and consumed as architectural photographs today. And within this field exist various photographers and contemporary artists who express their interest toward architecture and produce works from subtly but surely varying positions.
We organized this exhibition around the works of 13 photographers, who are active in both Japan and abroad, which reveal the multi-layered and complex relationship that exist between contemporary photographic expression and architecture. At the exhibition space we showcase not only a diverse range of architectural photography, from works by Thomas Ruff and Candida Höfer—from the Becher School—to works by Hiroshi Sugimoto and Takashi Homma, but also six architectural models of the structures within the photographs. By providing a better grasp of the whole architecture via the models, we present an opportunity for the visitors to fully enjoy the appeals and characteristics of each individual photographic expression.
A gaze into architecture
- Phases of Contemporary Photography and Architecture –
Date
August 4 (Sat.) –October 8 (Mon.), 2018
Hours
Tuesdays – Sundays 11:00 a.m. – 7:00 p.m. (admission until 6:00 p.m.)
Closed on Mondays (Open on a Monday when it is a National Holiday, in which case closed the following Tuesday.)
Access
ARCHI-DEPOT Museum(2-6-10, Higashi-Shinagawa, Shinagawa-ku, Tokyo 140-002 JAPAN)
Admission
Adults ¥3,000 / Students ¥2,000 / Under 18 ¥1,000
*With a certification of disability, admission is free as well as that of an accompanying caregiver
Organisation
ARCHI-DEPOT Museum
Curated by
Fumiko Suzuki
Exhibition design
Atelier Tsuyoshi Tane Architects
Curatorial support
Art & Public Co., Ltd
Sponsor
CASAMATA / BIBI GRAETZ, SINWA KOUMUTEN Co., Ltd. design field laboratory,
Sony Music Entertainment (Japan) Inc., Tokyo Studio Co., Ltd
Cooperation
Jun Aoki & Associates, IZU PHOTO MUSEUM, Obayashi Collection, Gallery Koyanagi, ShugoArts, TAISEI CORPORATION, Taka Ishii Gallery, TARO NASU, Museum of Architecture,
Museum of Architecture, The Koishikawa Annex, The University Museum, The University of Tokyo, Yuka Tsuruno Gallery, WAKO WORKS OF ART
Photographer
Thomas Demand, Mario García Torres, Naoya Hatakeyama, Candida Höfer, Takashi Homma, Tomoki Imai, Luisa Lambri, Ryuji Miyamoto, Thomas Ruff, Hiroshi Sugimoto, Risaku Suzuki, Tomoko Yoneda, James Welling
Talk Event "Architectural Photography as Expression"
Guest Speakers
Candida Höfer, Naoya Hatakeyama
Schedule
August 4, 2018 (Sat)
14:00 – 15:20 (Door Opens 13:30)
Venue
TERRATORIA – Warehouse TERRADA
Capacity
100 people (Reservation required; seated in order of arrival)
Fee
1000 yen
How to reserve
Please send us an email with the subject line "Reservation for Talk Show August 4" detailing the required information (listed below) to info@archi-depot.com and make sure to set your device so that you can receive an email from this address.
(1) August 4 Talk Show, (2) Name, (3) Email address, (4) Phone number we can contact you with on the day of.
* We will stop accepting reservations once we reach full capacity.
* You cannot reserve for more than one person.
* We will send you a confirmation email to your reservation within three days. If you do not receive a reply within three days, please contact us:
03-5769-2133 (Weekdays 10:00~17:00)