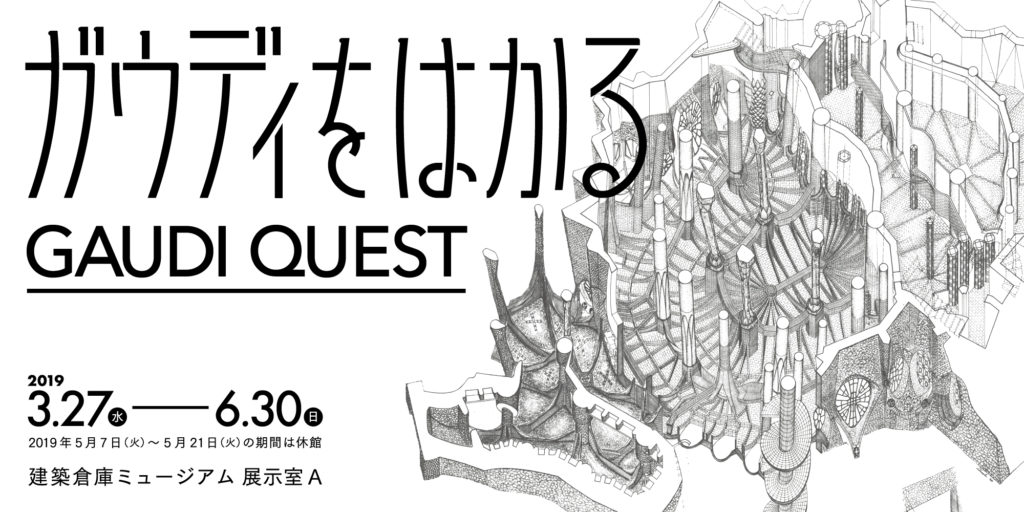 EXHIBITION
– GAUDI QUEST –
2019.3.27-2019.6.30
Dates
March 27th (Wed.), 2019 – Jun 30th (Sun.), 2019
(Closed from May 7th (Tue.) to May 21th (Tue))
Venue
ARCHI-DEPOT Museum – Room A (2-6-10 Higashi-Shinagawa, Shinagawa-ku, Tokyo 140-0002)
Open Hours
Tuesday – Sunday, 11:00 AM – 7:00 PM (Admission until 6:00 PM), Closed on Monday
(open when Monday is a holiday, but closed the following Tuesday)
Admission
Adults 3,000 yen / Students 2,000 yen / 18 and under 1,000 yen
Including the admission for the exhibition Room A
* Free admission for visitors with a physical disability certificate and one of their carers
* Presentation of your school identification card Windicating your age or a physical disability certificate will be required on admission.
Highlights
– Over 70 blueprints, including six major works: Sagrada Familia, Parque Güell, Casa Batlló, Casa Milà, Colonia Güell, Teresian College
– Measured drawing of Parque Güell, which took 8 years to complete
– Spectacular drawing of the bell towers of Sagrada Familia which is over 5m
– Original measured drawing of Teresian College
– Interactive exhibition with a full-scale reproduction of the stairway in Parque Güell
– 1/20 scale model of the terrace walls in Parque Güell that was built based on actual measurement
[About Antoni Gaudí (1852-1926) ]
One of the world-renowned architects of the 19th and 20th centuries. Seven of his works are registered on UNESCO's World Heritage List. Sagrada Familia, his masterpiece, is currently being built with completion scheduled for 2026, which marks the 100th anniversary of his death.
[About Hiroya Tanaka]
Doctor of architecture and surveyor. Born in Hokkaido in 1952. Moved to Barcelona in 1978 and has continued to draw actual measurement drawings of Gaudí's works for 40 years until today. Convened the "Hiroya Tanaka Drawing Exhibition" hosted by the Association of Architects and Engineers in Barcelona in 2015.
Highly acclaimed for his achievements in Spain, honored with a Barcelona Japan Consul General Public Official Award (2015), the Gaudí GRESOL Award (2016), and the ACADEMIA PRIZE (2018).
Organizer
WarehouseTERRADA ARCHI-DEPOT MUSEUM
Sponsors
SINWA KOUMUTEN Co., Ltd. Design field laboratory
Cooperation
WASEDA ARCHITECTURE ARCHIVES, TRIAD Inc.