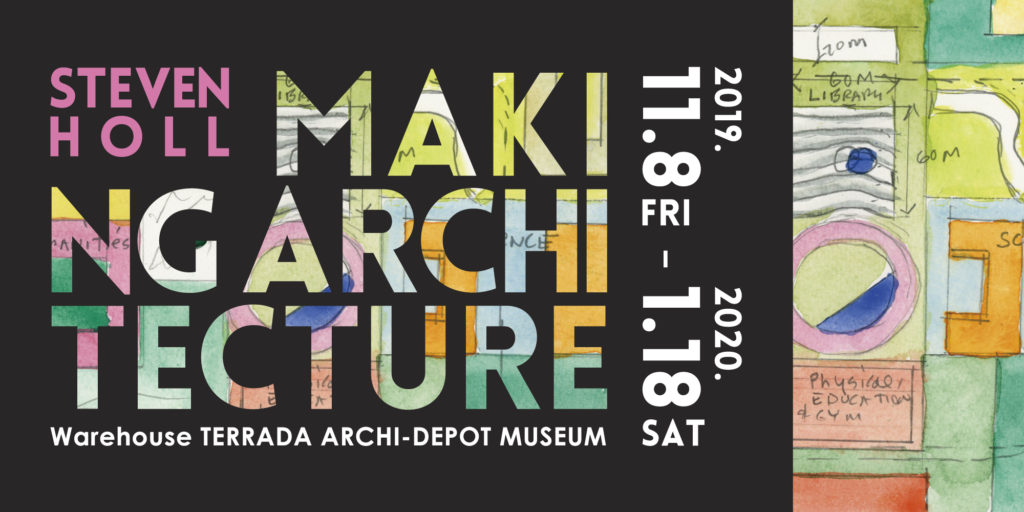 EXHIBITION
Steven Holl:Making Architecture
2019.11.8-2020.1.18
Dates
November 8th, 2019 (Fri) – January 18th, 2020 (Sat)
Venue
ARCHI-DEPOT MUSEUM – Room A and B (2-6-10 Higashi-Shinagawa, Shinagawa-ku, Tokyo 140-0002)
Open Hours
Tuesday – Sunday, 11:00 AM – 7:00 PM (Admission until 6:00 PM), Closed on Monday
(open when Monday is a holiday, but closed the following Tuesday)
Admission
Admission: Adults 3,100 yen / Students 2,000 yen / 18 and under 1,000 yen
* Ticket: Online ticket system
* Free admission for visitors with a physical disability certificate and one of their carers
* Presentation of your school identification card indicating your age or a physical disability certificate will be required on admission.
* Admission of the tour of Architectural Model Warehouse is included.
Highlights
– World renowned architect, Steven Holl's exhibition in Japan for the first time in 13 years
– It comprehensively shows the making process that Holl implements to complete his architectural works.
– An opportunity to see the exhibits in Japan, which will be stored in his foundation
– Around 100 pieces highly selected from his 30,000 watercolor paintings which he has drawn in the morning
– Intricate architectural models, each of which were prepared during various design processes.
– Videos including commentaries by Steven Holl himself
Ticket Information
– Special ticket including an admission ticket of Steven Holl's special talk (from 6:00 PM on November 12th (Tue))
Available on September 12th (Thu) (Only 500)
Buy for ticket
URL: https://archi-depot.com/event/steven-holl_special-talk
– Regular ticket
Available on October 15th (Tue)
About Steven Holl, Architect
Born in Washington, USA in 1947 (Currently 72). Awards: AIA Gold Medal (2012), Praemium Imperiale Award (2014) and others. Prominent works: Kiasma – Museum of Contemporary Art in Helsinki, Finland (1998), Simmons Hall – MIT (Student dormitory) (2002), Linked Hybrid ゙(2009) and more.
In Japan, this is the first exhibition and talk event since the solo exhibition at GALLERY MA (2006), a group exhibition at GA Gallery (2008), and Praemium Imperiale Award (2014). His works in Japan: Nexus World in Fukuoka (1991) and Makuhari Baytown Patios 11-bangai in Chiba (1996). Teaching at Columbia University since 1981. Currently has offices in New York and Beijing, and his own foundation, Steven Myron Holl Foundation in New York.